Most recent album:
Erases Eraser - Neuroses
Most recent artwork: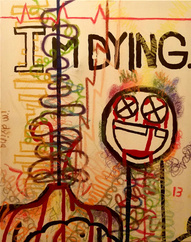 Eyesore series
Recent film review:
"Tanner, did you really watch all of these Woody Allen movies?" Yes, I really did. Most of them more than once.
I've decided that Woody Allen was both, at different phases in his career, an idiot and a genius. He is currently my favorite director. He was a cheap, Three Stooges-like physica...
Read the full review. Updated November 6, 2019
Recent music review:
Henry Knollenberg has been my good friend of 4 or 5 years. We played in Culture Chester together with the infamous Newt Grundy, and he has made several appearances on my albums over the years. He was also, along with David Galloway and Grundy, in a trio of creative power called Sp...
Read the full review. Updated September 25, 2019
Recent blog post:
September 8, 2019 • Tagged as list
This is pretty accurate
Random artwork: