Most recent album:
Erases Eraser - Fire of the Mind
Most recent artwork: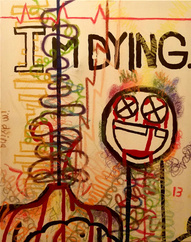 Eyesore series
Recent film review:
I really have no business talking about the work of Andrei Tarkovsky. It's too beautiful, too intelligent, too meaningful, intellectually challenging and disturbingly articulate. To talk about Solaris, Stalker, The Mirror, and the others with the same pompous I-know-more-than-...
Read the full review. Updated February 1, 2020
Recent music review:
It's difficult to use any of Newt Grundy's artworks, in any medium, to properly describe or illustrate the experience of knowing him personally, but his recent incredible hip hop-and-folk masterpiece mosaic does a pretty good job. Insane Captain Beefheart-esque streams of consciousness and fragments of ab...
Read the full review. Updated March 4, 2020
Recent blog post:
March 12, 2020 • Tagged as fuck me
I am a leaky faucet of bullshit so if you need to get a bucket to keep the bullshit off of your floor it's cool
Random artwork: