Most recent album:
Erases Eraser - Neuroses
Most recent artwork: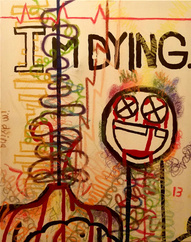 Eyesore series
Recent music review:
Deathconsciousness
Alright boys, for those of y'all who haven't been blackpilled/wrist-slitter-pilled on the tremendous emotional behemoth known as Dan Barrett, hang onto your hats because I'm gonna drop a truth bomb. Have a Nice Life is the most influential rock band of the past 15 years. Their s...
Read the full review. Updated August 31, 2019
Recent blog post:
September 8, 2019 • Tagged as list
This is pretty accurate
Random artwork: