-

11 Views
Moving On

16 Views

I can't pretend to care as much about art and music as much as I used to. I have been putting everything I got into that for years and it has given me very little in return. I also find that I don't have the physical or emotional resources for certain friendships anymore. It's really sad and hard to do, but I don't think friendships are meant to be worth going out of the way for. Friendships should adapt to your life, you shouldn't change your life to accomodate friendships.

Of course I still enjoy making art and making music. I always have. The difference with my life now is, I don't identify as an artist so desperately anymore. I don't have to consistently "prove" to the world that that's what I am. I know that's what I am, I don't have to strive to exist in that light, in that context anymore. It's a tempting but ultimately hopeless thing to aspire to be as a young adult. A number of factors have made me "unsuccessful" at this, especially the vague parameters of what "successful" is. Does anyone want to see my Bandcamp stats? I'll show you.
Erases Eraser - last 60 days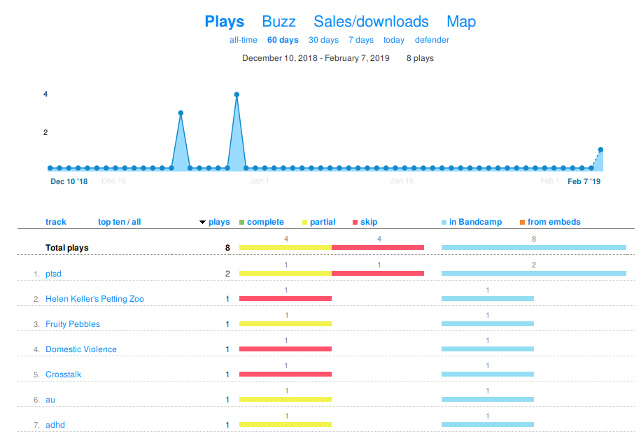 Erases Eraser - all time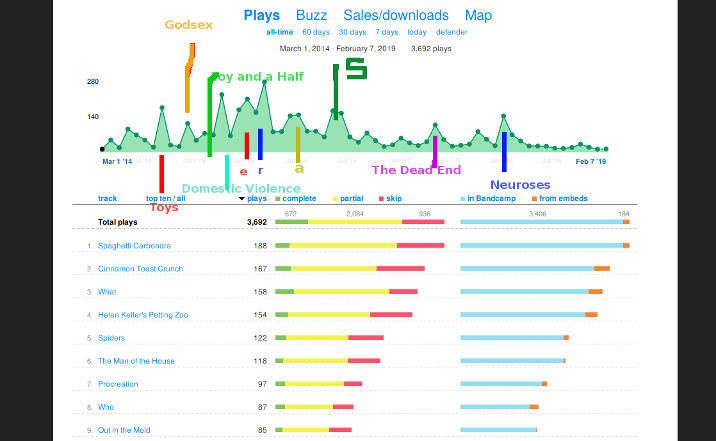 Tantrum Throwers - last 60 days
Tantrum Throwers - all time
I'm a fucking asshole

16 Views

If you have ever met me in real life, I'm sorry.
Rest in Peace: Jack (2007-2018)

20 Views

It is with a heavy heart that I inform my friends, family, and coworkers that my beloved cat Jack, has passed away today. His kidneys failed at about 10 this morning, and we had to put him down. It was the best decision for him, as he was suffering and only would have gotten worse. Me, my girlfriend Kristin, and Jack's sister Black Maria, our other cat, were with him when he died. In the past two weeks, he's had three ultrasounds, then a surgery for a gallstone, which required removing his gall bladder. He suffered a cardiac arrest shortly after the surgery, but he was resuscitated. He's had blood transfusions, and has required a feeding tube in his last days. What makes it especially heartbreaking is that two and a half weeks ago, he was fine. There was nothing unusual about him.

Please enjoy these pictures of him.

For those that didn't know Jack, he was the friendliest, warmest, chattiest cat you would ever meet. He loved everyone, he loved giving and receiving affection, and he always had a lot to say. You c...

Read the full blog post.
I am no longer living

15 Views

OOOGA ARE YOU SMARTE Nuff??? Do u hAVE a GoOd SolidD LyfE???!!! Remember to BE exTra CareFuLL abOut WhAT yoU saY 2 Ppl!!!! Don't say ntohing BAD!!! You knOw uYo have a RePuTAShun for SayiNg BaD things>.... Don't BlOw ur RepuTaShuN!!! Gotta Hav0 CareEER!!