Bazaar After Dark #2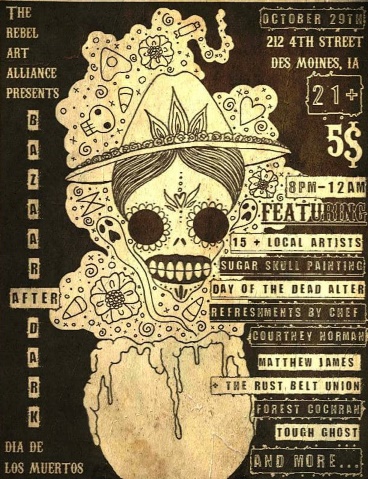 I will have pieces at the next Bazaar After Dark. Vaudeville Mews. Sunday, October 29th. 8pm. $5 cover. 21+.
If any of you read this and like me in real life, expect to see my new pieces at this show.
Art Bazaar After Dark

This is an Art Bazaar, except it's at the Vaudeville Mews at 8:00. Sunday, August 27, 2017. It is 21+, so hopefully that means I can show my big bad not family-friendly pieces.
Lots of good artists at this one, also there's music too. I think the cover is $5.
Art Bazaar #2 coming up June 4

I think I'm gonna have some digital pieces display on the monitor. Some stuff from this series.
Sunday, June 4th 2017 --- 12 pm to 4 pm. Plain Talk Books and Coffee.
Erases Eraser show in Cedar Rapids

Yeah, you heard that right... Got one of these shows coming up in Cedar Rapids.
The other guys playing are:
Blue Movies
Scarlet Snow
ZBORNIK
distopIA
Tobias
Six acts in 4 hours. Show starts at 9 PM.
Fusion Cuisine & Spirits --- Friday, April 28th --- 821 3rd Ave. SE, Cedar Rapids, IA 52403
P.S. don't worry Kristin, Tanner's here for you
HAHAHA WOWEE!!! NEW ART SHOW COMING UP

Hey guys I'm gonna be displaying my art at Plain Talk Books on May 7th, 2017. Come look at my pieces!!!
Bound to be a good time.