Moving On

16 Views

I can't pretend to care as much about art and music as much as I used to. I have been putting everything I got into that for years and it has given me very little in return. I also find that I don't have the physical or emotional resources for certain friendships anymore. It's really sad and hard to do, but I don't think friendships are meant to be worth going out of the way for. Friendships should adapt to your life, you shouldn't change your life to accomodate friendships.

Of course I still enjoy making art and making music. I always have. The difference with my life now is, I don't identify as an artist so desperately anymore. I don't have to consistently "prove" to the world that that's what I am. I know that's what I am, I don't have to strive to exist in that light, in that context anymore. It's a tempting but ultimately hopeless thing to aspire to be as a young adult. A number of factors have made me "unsuccessful" at this, especially the vague parameters of what "successful" is. Does anyone want to see my Bandcamp stats? I'll show you.
Erases Eraser - last 60 days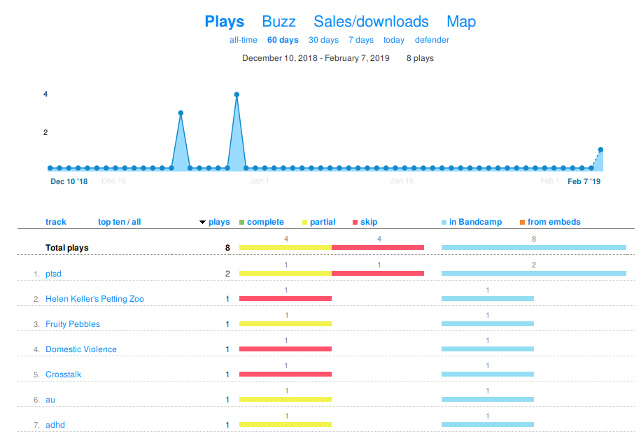 Erases Eraser - all time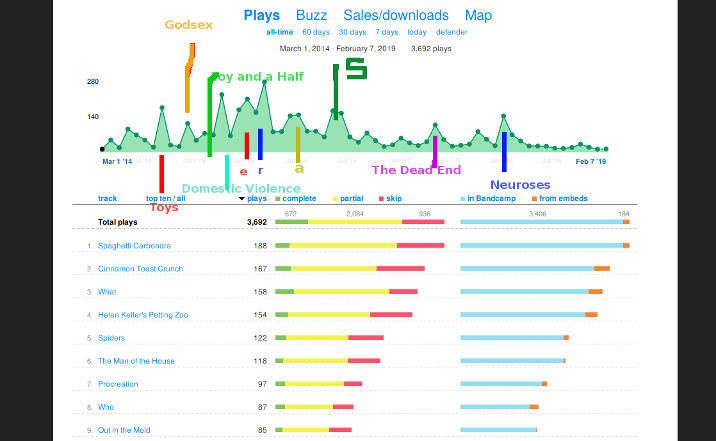 Tantrum Throwers - last 60 days
Tantrum Throwers - all time
Website Source Code Now on GitHub! Also I got a job!

12 Views

Hahaha just kidding you dumbass SQL fly buzzing junior high cracker scripts. No one's breaching this wall of security. Shout out to my socialism GNU GPL boiz we cool but I'm taking this one to my grave. I have however, reached a breakthrough in this site's programming. It is now much smarter and more efficient. Much, much easier to use and maintain.

The second part of this misleading title is true. I am now employed (remotely) as a software developer at a software company that will remain nameless. After years of chasing my tail with this art and music shit, my programming has come through and I am now making a living from it. Also, the benefits include bragging rights and a much more inflated idea of myself.

I hope the rest of you are enjoying good fortune and peace in your lives as I am.
Withdrawal

16 Views

Hello, friends. I would like to announce publicly, that I am ceasing performing in art or music shows for the foreseeable future. My attendance at these kind of events will become sparse. My music and art projects will still go on, but privately and without public exhibition (for now). This is not the reaction to any one single event; it is a number of things in my personal life which are insisting this conclusion.

But also I'm kind of tired of it all. Promoting myself, socializing with the intent to achieve validation, pretending to be friends with people I actually hate, begging to be noticed, begging people who would never give me a second thought to be on their shows. Fuck it. If people want my art or music badly enough they can come get it, because I am blowing my engines and failing to see real satisfaction in bringing it to them. My local art and music communities are superficial, shallow, and empty, not to mention tainted with gentrification anyway. Perhaps one day I will return to doing stuff but it's not gonna be for a while.

I don't even know why I bother writing these fucking things.